DeMay, Brest, Smith, Stuenkel win Fox Valley HS
Weldon, Illinois, Fox Valley Off Road Park July, 31 2005
By Merle Acord
ox Valley Off Road is a fun place, and the two inches of rain during the middle of the week enhanced the fun factor for the two hundred pluse riders that signed on for a Sunday of fun in the woods for like County fairs, and cotton candy; motorcycles and hot weather they all go together.
Fun is fun, but when the shotgun goes off, or in the case of Fox Valley Off Road The Boss Gerhard Ward drops his hat; it's all business. Friendships aren't forgotten, they are just put aside for ninety minutes. A helping hand is still extended (sometimes) but the need had better be convincing.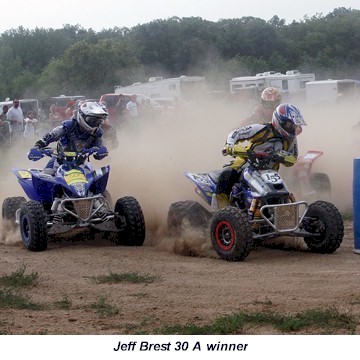 The Quads had their own race and were the first off the start line in a multi-wave format with A riders taking the first drop of Ward's sun bonnet.
"Hard to tell it now but we watered this start area today," said Fox Valley Off Road Park race promoter Gerhard Ward. "The start is dusty, but the trails, thanks to that two inches of rain during the week, are in great shape. The woods hold the moisture.
Prophetstown's Curt DeMay the A class winner has been busy. "I'm running in four series right now and it keeps me hopping. In fact we are leaving right now to ride the Moose run over in Prophetstown. I'm not really any kind of "Iron Man"; I'm just in pretty good shape. Couldn't do this if I wasn't. This course wasn't too bad, wide open and that allowed you to set up your rhythm. I was a little worried about Jeremy A. Smith, he kind'a came up out of nowhere, but I think he bent an "A" arm. Got into a lot of lapped riders in the last lap but otherwise we didn't have any trouble. I would like to thank Gieson's Motor Sports and Moose Racing and Mom and Dad."
"Curt (DeMay) got the holeshot as usual," said Jeremy A. Smith, and I followed him into the woods. Somehow a court Marshall (I think this was his first event) got between us and when he finally let me by I had some ground to make up and I tried to make it up too fast and hit a tree and bent an "A" rod. I dropped out but I'll be riding the afternoon big bikes. I'll be going against my good buddy Jeremy L Smith. It'll be hard to tell us apart we'll both be on YZ250 Yamahas. It should be a good show. I would like to thank my sponsors Moose Off Road, Slaight's Yamaha Center in Canton,Ill., and Mom and Dad."
"I was the Plus 35 class champion last year," said Jim Stevens third place 4-wheel A class winner. 'I moved to the A class so my plus 35 competitors could battle amongst themselves and I'll stay away for the year, BUT, I may return in 2006."
"I am aging a little now," continued Stevens. "This year I'm 44 and racing these A class guys is quite a challenge. Although, it has been a great experience racing them, they are not afraid to do a little bumping and shoving when needed. Looking at the front photo on the site, I had a good start then at the first turn Curt #14 hit me from the left side, which forced me in the side of Smith#35. Smith and I raced to the woods opening and I squeezed him out and had second place for a better part of the first lap. I knew I couldn't hold him off for too long, so about the end of the first lap Curt started pulling away from me, at this time I let Smith by so they can battle together."
"From this point on I just put my head down and charged the best I could. I ended up lapping some of the guys from my old plus 35 class. I had a faster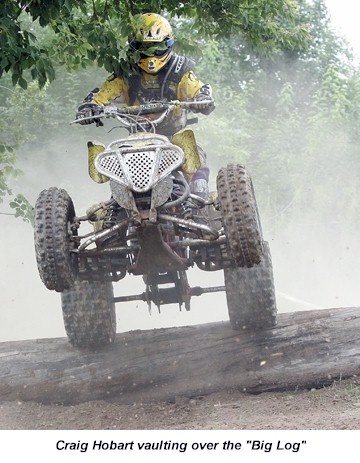 time than the B class. As strange as it seems, I feel like a guy with no class."
"The creek crossing did become a bottleneck with some racers. If one was creative, the ride side of the beaten path offered an alternative up the side of the bank, yet there was a tree shortly after that had to be respected."
"Ward designed a great course for the day. He mixed it up enough to create a course that was 11 to 12 minutes long. Very creative using the property he has there."
Daniel Jones second in the 4-wheel A class agreed, "There was some mud in the creek crossing but not that bad and there wasn't much dust. Ward did a good job. I didn't do anything special to this LZ400, Nerf bars, pipe and an air filter. I don't have any sponsors but they are welcome."
Jeff Brest 30+ winner said, "I dropped back to the plus thirty class this year and I'm just using the local events as practice for the Nationals. I've been basically just hitting the Nationals this year and right now I'm sitting second in the Vet class so I can use the practice. I think I might have gotten the overall today they said I was less than a minute behind the leaders and the 30+ wave was a minute later after the A class so after adjusting the time it's going to be close. I would like to thank Service Honda, Tire Balls, Mac's Racing and many more. "
Timothy Storey in the plus 30 class and from Coal City, Illinois said, "I am tired some of those up hills were tough and the creek crossing was getting bad at the end. I'm happy to finish, my hands were getting sore and always that last lap is the worst."
John Herman with a third place finish in the C class for his first ride in racing competition, is "hooked". "Will I be back to race again? Absolutely, it was challenging and that log next to the barrels that was something else."
Honda mounted Kevin Johnson rode to a first in the 4-W B class and said, "I think I got a first today and I'm really excited about it. It was a fast course but a good one lots of twisty turns and it kept you moving and for a hot day it was a good course. There was a mud hole after the creek crossing that was getting bad in the late laps, but they made a new line for it and there weren't any problems with the rest of the course. The bikes will have some fun for sure. Ward will throw them thru the creek and that will be entertaining. I would like to thank World of Power, Regenia Chain, Scott Goggles, and Alloy MX Gear."
"I flipped over the handlebars in the first lap," said double A winner Jeremy L. Smith. "I blew thru a corner, went thru a banner, hit a pot hole and flipped right over the handlebars. The other Jeremy Smith was right behind me and took over the lead. I got it back together again and caught up with Jeremy and we battled it out for a few laps then I got around. I think maybe it being so hot and all and he also rode the quads, he might be worn out. Ward did a good job and that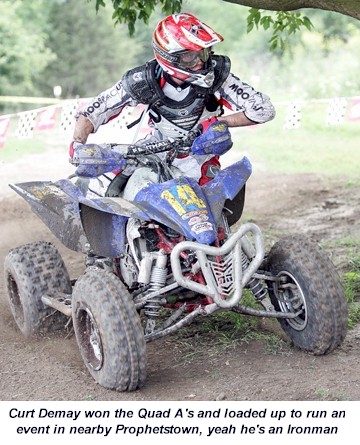 rain we had made the trails great. Down in the bottoms you could really hook up. Perfect soil. I'll be going to the Six Days again I don't know what class yet, so I'll have to wait on that. I would like to thank my family and friends, Smith, and Moose Off Road Racing."
"I think I was fourth off the line, and I kind'a got in the flow, but the other Jeremy Smith beat me," said double A rider Jeremy Smith who finished second. "This weekend wasn't as bad as the other two weekends. I'm just glad we got a break in the weather.
Steven Stuenkel followed double A rider Jeremy L. Smith around the barrels in the first wave of the big bikes and kept the heat on as he raced to the win in the Open A class. Jay Hall aboard one of his shop's own Gas Gas who will be riding his first Six Day this year, wasn't all that disappointed with his second place finish being Steven was on a Husky also one of Hall's models. Scott Wessing, with a leg over a Husqvarna made it a Hall's Husky top three with a third place finish.
Dave Bergquist a real live hot shoe from years past, has eight more years of Marine service before his retirement, enhanced his leave's fun factor by finishing sixth in the Open A. Dave said he has been stationed in California the past few years when he wasn't serving two tours of duty in Iran and his riding has been confined to riding the desert. They have very few trees in the desert. I'll just have to get used to them again."
Rich Mertez 50 plus winner was all smiles: "We had just enough rain during the week to make the trails perfect. There wasn't any mud to speak of just good riding. I would like to thank RC Kawasaki in Oglesbe."
Luke Kaszynski Open B winner said, "I think I got it, but in that first lap I kept killing the bike and I fell a couple of times but I bounced back and I think I still got em."
"I had a blast," said eight place 40B rider Doug Johnson. "The moisture was in the trails and there weren't any problems."
Open B rider Carl Bruch said, "I got a nice start and was running second when I got a flat in about the second lap. They tell me we were running 12-minute laps. Anyway, I think I finished last, but I finished. You have to finish."
"I borrowed my cousin's 200 KTM to practice with so when I turn B next season I'll be ready," said first place 85cc rider Eric Busz. I would like to thank DGY for all of their support."