Heroes and Villains
by Joe Lanute, Photo's Mandy Lanute
July, 30, 2006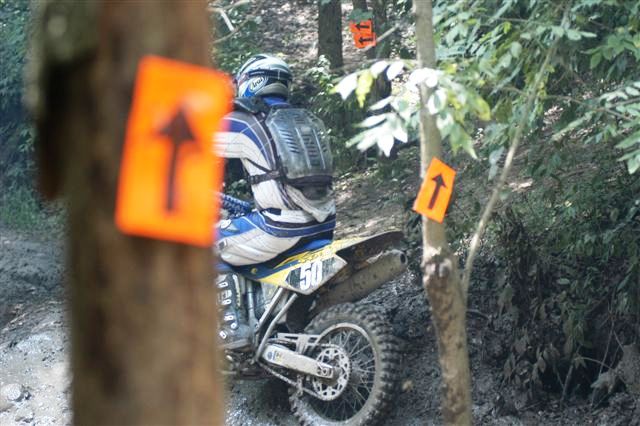 Fox Valley Off Road, Wedron, Illinois
Conflict is the essence of every story. It lays the groundwork for the plot. Conflict comes in the form of Man versus Man, Man versus Nature or Man versus Machine. Conflict will often times break down into two elements: Heroes and Villains. Our story for this Sunday has all of the above.
The overall hero of the day was Hall's Cycles rider, Jay Hall, Steady, Smooth, and pretty darn fast kept Jay out front this day. As the photo illustrates, most riders only seen this view as he passed, shrugging off the heat.
The tale actually begins on Friday & Saturday, our Heroes, also known as the Team Megacross, and Team of Fox Valley Off Road, began laying out the course for Sunday's conflict, they worked through a miserable heat index that topped well over 100 degrees with no air movement until well past dark. This group worked against the villainous Mother Nature to bring together all of FVOR's favorite conflicts. A trip down the memorable Rock Creek, complete with a mud bog or two, a leisurely stroll on the Supercross track, over the 'river' and through the woods (with no stopping at Grandma's house).
Heroes on Saturday, they could be called "Villains" on Sunday for engineering multiple elevation changes that, on top would bring to bare Sunday's blistering sun and down below would bring intense humidity. Of course, as always riders were given a choice: face the conflict of the spectator log or, turn tail and run down the "Sally Trail".
A group of around 150 heroic riders arrived on Sunday ready to face conflict with Man, Nature and Machine.
The quads squared off first, moments after Number "One" Villain dropped his hat, John Brush had the hole shot into the trees and the conflicts began. Although the class was small, the racing was close. The Quads, Woman's class, the 65's and the 80's received their complementary scoring transponders for the first time. Working like a find tuned machine, relocation of the view screen, and change of direction didn't interrupt it's performance. In this event scores being posted before riders got done sweating wasn't a hard task!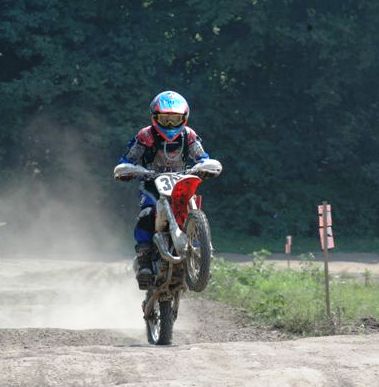 Heroes from the 65cc and 85cc classes were Keagan Schmidt holeshots and leads the group for a lap until District 17 85cc Points leader, and brother Ben Schmidt (pictured) passes for the lead. Ben showing improving speed with every race has bike trouble this day and takes and early exit. This allowing Skyler Harkless and his Yamaha to take over the leading duties for a while. A hard spill on the exit of the MX track on lap 5 was all that Keagan needed to regain the lead and hold on for the win. Ben had the fastest lap time for his class at a 6:20. Crashing hard at Megacross last weekend, and bike troubles with another hard crash, Ben has had a rough 7 days!
At the end of the Woman's class there was only one standing, Theresa Lanute. Not only did she finish the hour long race, she cooled down and suited back up for the 86-201C class. Two riders, rode twice on this day, ironman John Brush (Quad A & 201-Open C) and Iron woman Theresa Lanute. Heroes on this day for sure!
'Big Bikes': One and a half hours of conflict. 90 minutes of Heat and over heat. Mud and dust. Trees, rocks, creeks, whoops and logs. There is always comment at the end of every scramble at FVOR, sometimes praise for a great course, other times a cuss or two for a rough technical section. Example as illustrated below........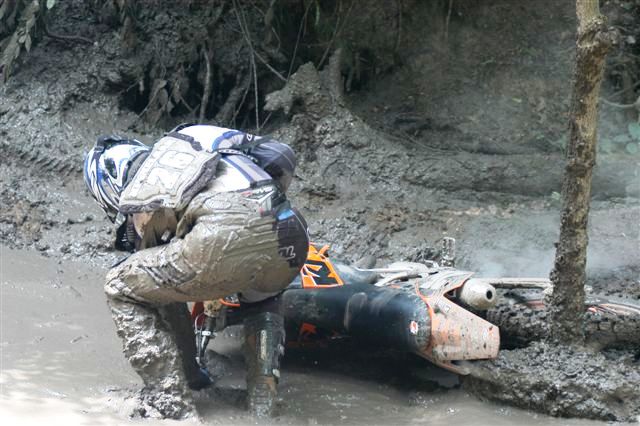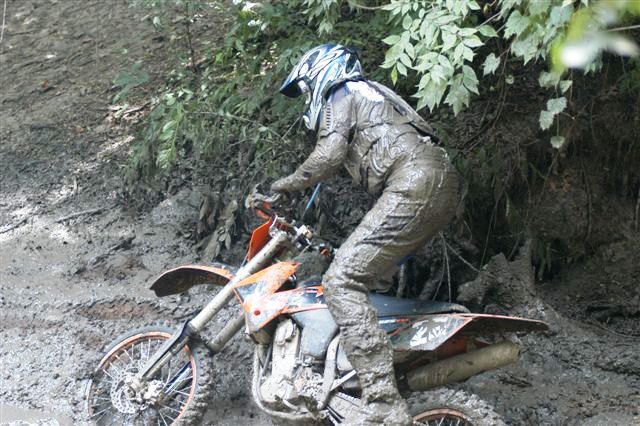 Rick Kinkelear had some choice words, once he cooled down. "My dam legs just weren't long enough if you can believe that!? I fell right over in the deepest mud hole out there!" He said as he was sitting under the water wagon's 2 inch spray. Both his color's returned as he cooled off and cleaned off! Rock creek had a few victims this day, the mud holes were finally dry enough to get through, some just took more mud with them as they passed! (Oh yes my friend, one thing our "Villianous" Photographer Mandy Lanute gets on camera, is crashes, more crashes, and the occasional tape ducker! Of course she gets hundreds if not thousands of great shots to!)
65cc class was pretty uneventful as John Searl took the holeshot, with Blake Bradford in second and Paige Garecht in third. Travis Ward still not grasping the concept of a "push start" sat on the line kicking his trusty Honda, only to get stuck on a hill and produce a 17 minute lap. John rode consistant to win, with Blake sitting on that same hill for a time. Paige rode hard and braved the heat as all the riders.
65 Beginners is becoming a very popular "cross over" class. 13 Moto X and HS riders join in this class to see who can handle the curves with obstacles and not take a trip through the woods the wrong way. They battled for 30 minutes on the smaller course with Cole Evans winning the class. Dead engine starts like this in the photo shows that some times a trusty ole four stroke will start with the best of them. Pictured are Jacob Damron 104, Justin Carr 22, K Miller 199, K Nesarchik 108.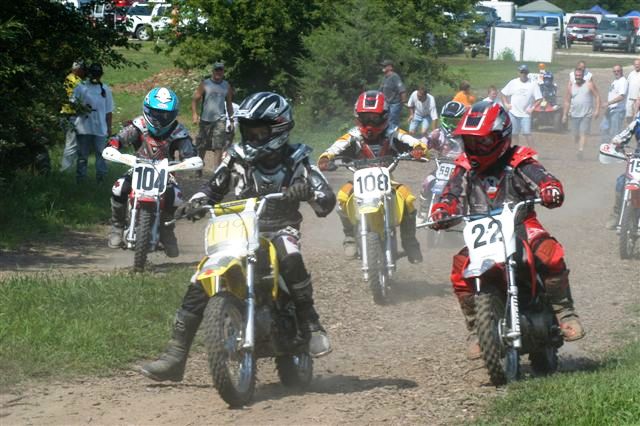 Thumper Class: Big men versus little machines.
This may not have been what the Founding Fathers of woods racing had in mind when they formed the conflict of Hare Scrambles. That not withstanding, Holy cow bat man, Fox Valley Honda's own John Conely finally overcomes that villianous Caleb Russell! Thumper class arch rivals and good friends had the battle of the day. After a long hour on the west side of FVOR, John takes the win by a mere 32 seconds. "Must have been the tassles" said Conely after the race. FVOR requires muticolored tassels to be inserted in the ends of the handle bars for decorative purposes. Caleb replied, "those things were sticking out so dam far I couldn't pass! This story writer believes it was more the "wide load sign" mounted on the rear of Conley's bike. Jeremy Petosky kept the other two A riders honest as he finished only 8 seconds off Russell. With one of his tassels lost during the race, it was clear that it had to be the reason for the 8 second deficit, balance was truly off. The others didn't buy it. Brett Wilkinson the first "non A rider" to get in the top 5 in a while outlasted Bill Tracy by 30 seconds for 4th. 15 riders competed in this "fun" class, an hour in the woods on the west side anything can happen......next week they travel to Megacross for the Thumper class tries it's hand at Stadium Motocross again. Did anyone ask if that counts towards year end points? :)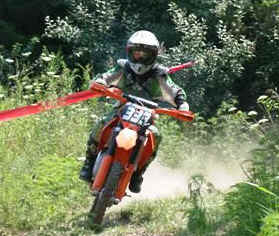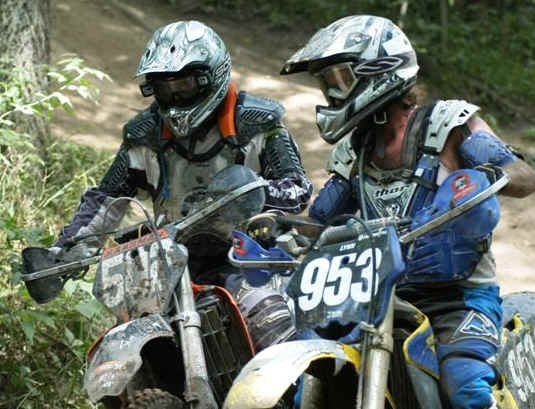 Tony Spizzirri rockets around the finish line log on to a 5th place finish in the 85cc class. Neil Haarmann and Jerry Lynn shooting for the same line at the bottom of the west side ridge. 906 Broc Olson was caught just before a little dirt sample, maybe when riders see the photographer they should just HOPE she isn't taking their picture! (less chance of falling?)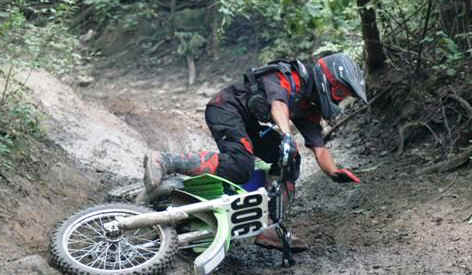 At the end of our story, heroes, villains, conflict, pain and glory, every one who competed was a winner. Not much sitting around after the race chatting was going on. This time there was a silence, relief that this event was over. The heat was the villain, the course a willing accomplice, all these hero's ended the day with a conquering accomplishment, barely rivaled by any story to be told. This is one that will likely be retold, a few times.