Wells, Zudiema, VanAlsburg Conquer Muddy Fox Valley Hare Scramble
rnd 2 Photos by Nick Smith - 893 Photography story by trackman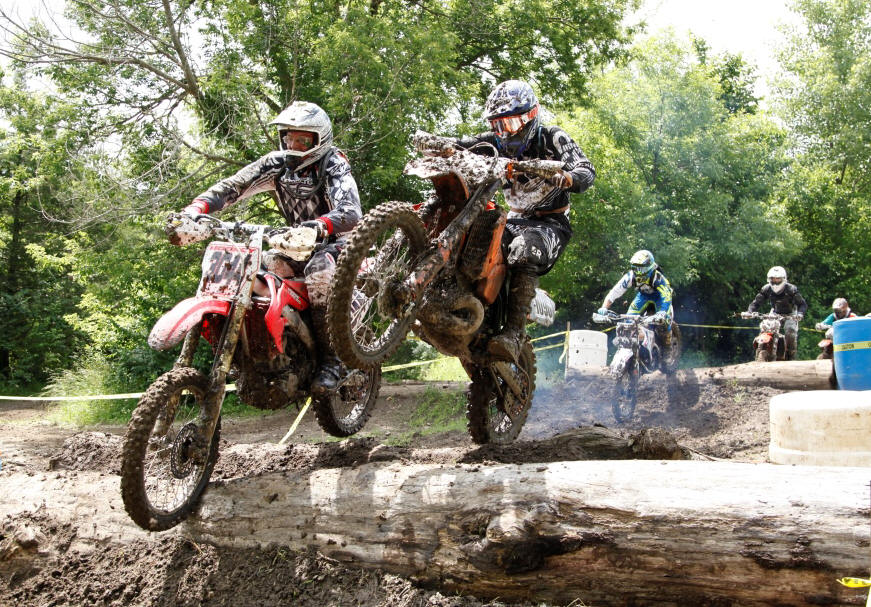 Results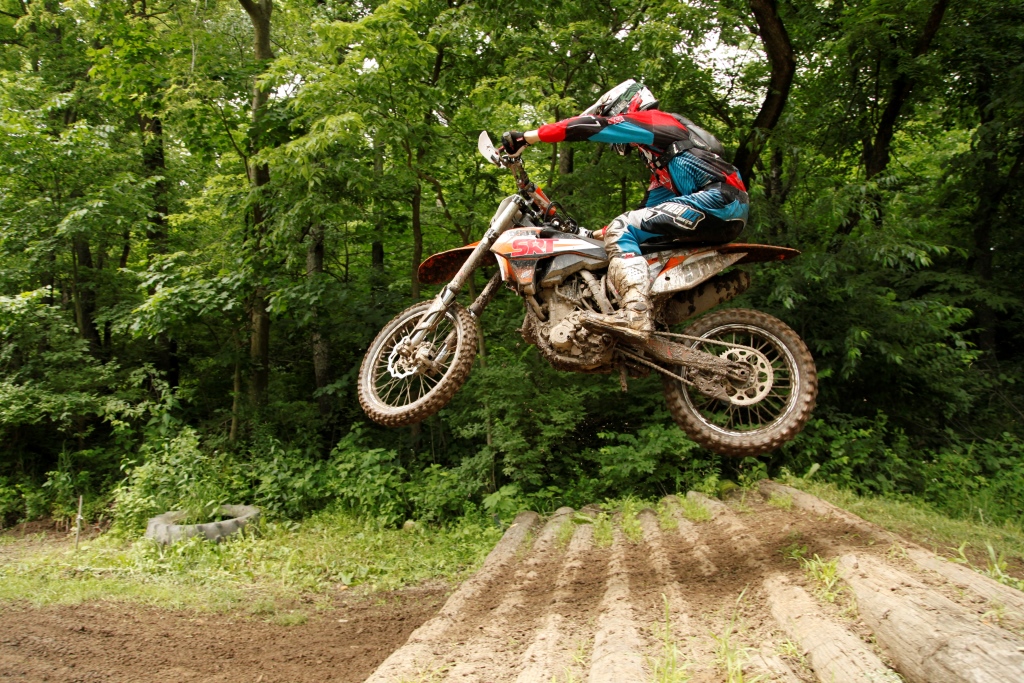 Austin Wells (93) has been around the hare scrambles scene for a very long time, here lately he has been showing his dominance in District 17's off road events. Missing the first Hs at FVOR, he made it to this one and didn't have a big class to race against but had some solid competition with Colt Converse and Travis Ward and a stack of A riders coming from 30 seconds behind him to see if they could challenge. Converse and Ward a few years younger have raced together over the years as well and were set to make Austin earn his win. First lap is all that was needed. Wells (93) and Ward (51) get off the line together with Converse (35) in tow. Through the barrels Wells leads by 2 seconds, Converse is 25 seconds down and it's only around 2 min to the barrels as the start went that direction today. Coming into the ex section Wells and Ward are side by side, Wells kills his SRT Ktm over a log and Service Honda's Ward passes, only for Wells to "hit the button" and roar back into contention. This was done in about 50 yards of ex section! The race was on, but not for long. Converse comes into the that same area and turns hard left, (arrows were aimed right) taking along with him Riley Schuhler. After a brief encounter of mx obstacles and running out of arrows they turned around and got back on the trail. By this time Ward and Wells were well on their way, til they get to the first "real" mud hole. Wells hammers it through, Ward goes to the left side and does the same with a different outcome. Buried alive! Ward's Service Honda thinks it's looking for gold and digs it's self a hole and is stuck, 1.5 laps worth of stuck. Ward's race is over, Converse is trying to catch Wells but his speed and consistency is hard to beat.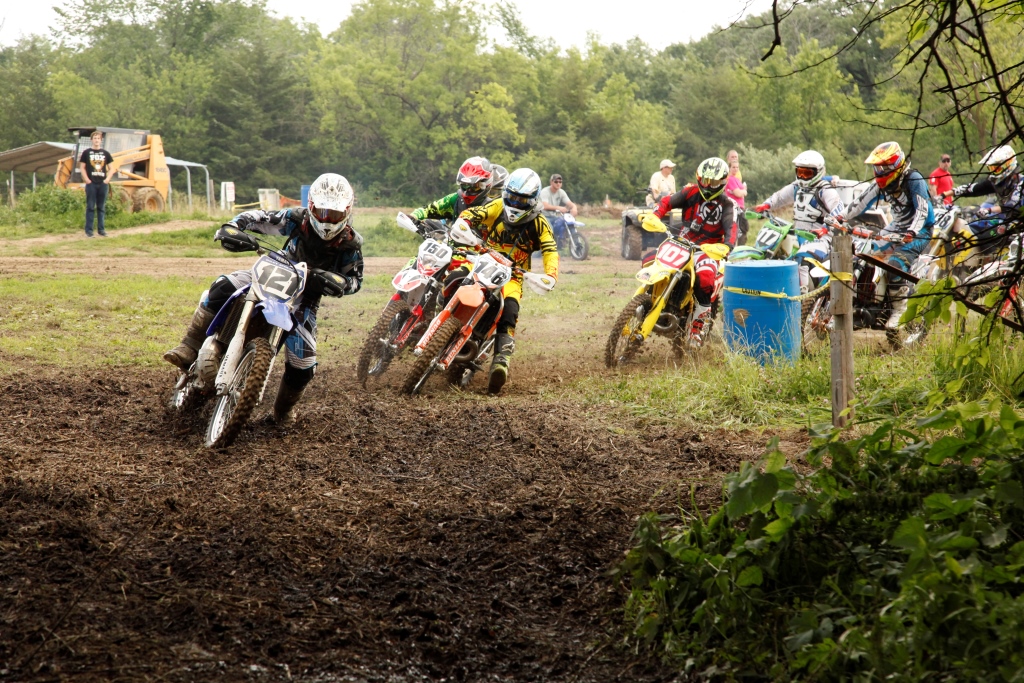 Open A class with 9 riders has been a solid class returning riders like Ben Schmidt (188), Anthony Biagi (107), Josh Stevenson (117) were there and keeping the young pups in check. Mason Schuhler the hot rod in the class has his work cut out for him today, brother Riley Schuhler (121) wasn't going to concede that easy, if it wasn't for his wrong turn on the mx track area he likely would have been leading on the first full lap of the race. Biagi's day ended on lap 6 with a counter shaft sprocket that looked like it met it's match!
Other then Wells in AA, 8 other riders did 11 laps, 4 of which were in the Open A class. Schmidt tried to keep the younger Schuhler in sight, and did well only losing a few seconds a lap for a few laps, but even at that young age, taking time off to pursue a career and Schuhler getting quality riding time in the interim now has made this class very competitive. Schmidt at the end was 2 minutes down on Schuhler who tried hard but wasn't able to top the AA class winner this day like last event.
Oh and lets not forget the quiet one coming through the ranks. Colten Zudiema has been lighting up race events lately, last year in the C class and now B. Today he rocked on to a solid B class overall but more importantly served notice he will be bangin bars with the A class and AA class boys soon. Colten from a third line start, finish this event 3rd over all!! Very impressive!
Babbit, WFO's rider Tanner Whipple(229),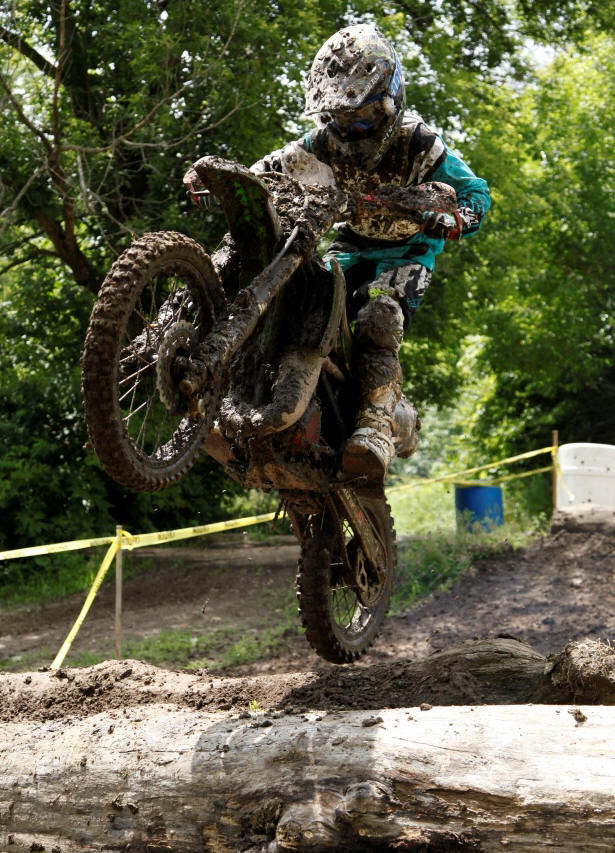 and Fox Valley's Riders Choice Racing's Team Green member, Garrett Ward (231)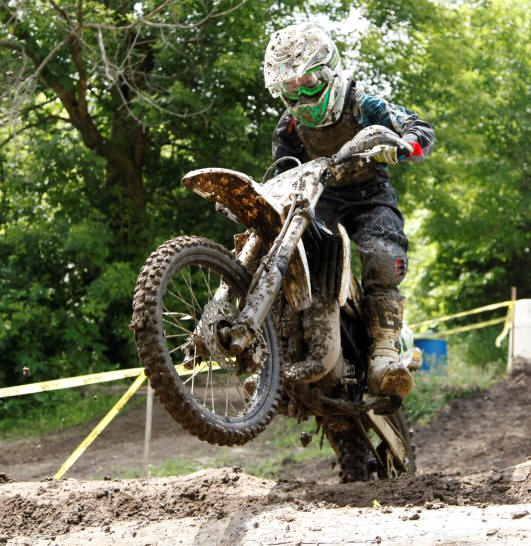 have been tearing up the District racing scene for the entire season but neither have seen each other til today. "Whip" took the Super Mini Class by storm Friends off the track/course, but good competitors on they battled all day. Super mini only had two racers and these to did just that. Whipple capitalized on a miscue by Ward in the middle of the hour long race and won by 3 minutes. This day for them is just getting warmed up. See both boys have been racing 98-200C or "little C'' class as well. Hour on the machines at race pace, grab a drink, pair of new goggles and back to the line to play with the big boys. 1.5 hour morning big bike race starts immediately after the mini bike youth race is over.
That race in it's self, then with all the C classes, and lets not forget 50+A and 50+B roaring off the line first of the 70 some riders in this race this morning. Don't forget little C class is the last line to leave about 2 minutes down from the leaders.
Up front early Shawn VanAlsburg (627) and Jay Hall (650)are battling in 50+ A class with Kevin Finefield (667) only a few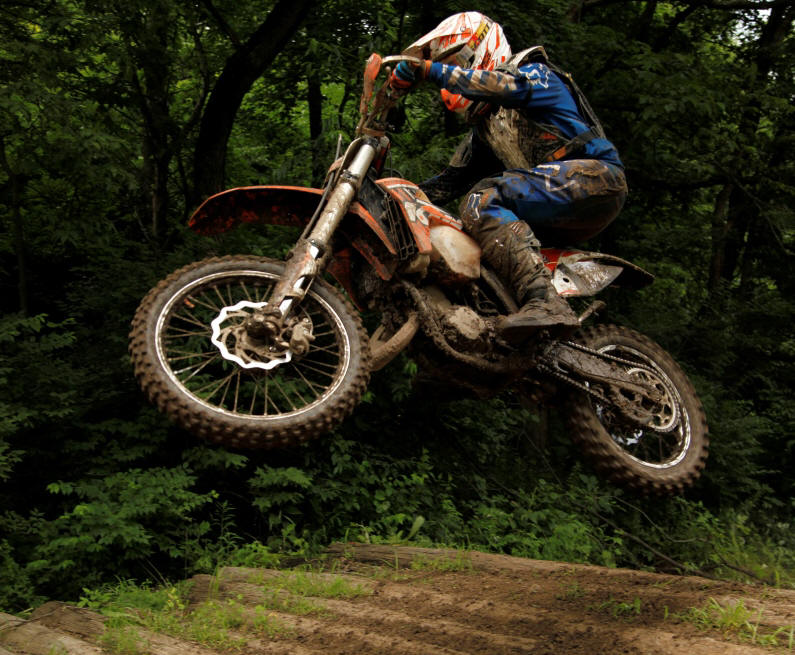 seconds behind. Coming through the barrels 1, 2, 3 which was only about 2 minutes from the start as this direction today was "clockwise" and with that it goes directly that way from the start. Coming through the barrels in 41st position was Ward, and Whipple in 45th. Chris Johnson, Eli Otterbach, Eric Wilson, Robert Bland some other noteables were in the hunt early on as well. Lap two Ward moves to from 41st to 7th, Whipple 45th to 9th overall. VanAlsburg and Hall are being hunted, couple of 14 year olds are on the hunt. Lap three a good 30 some minutes into the race Whipple has now caught Ward and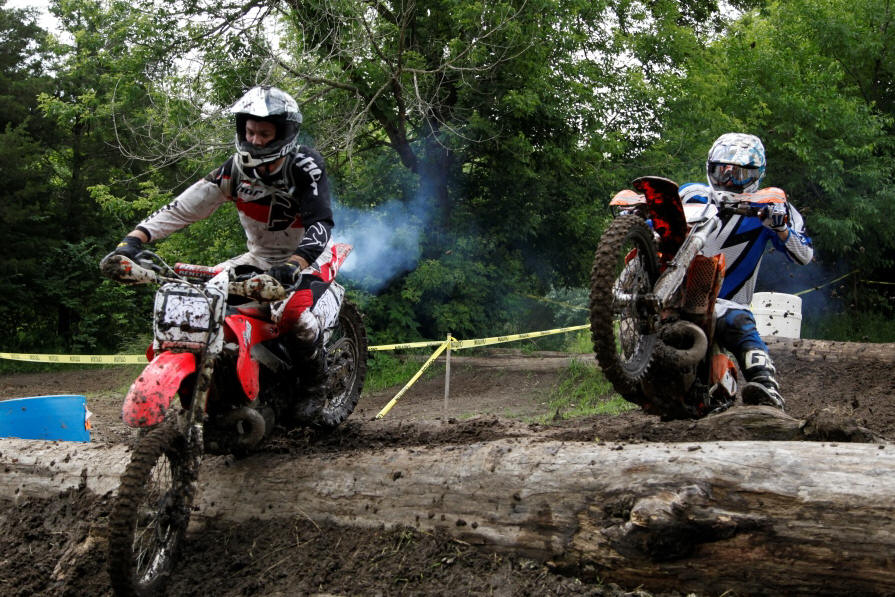 are running 2nd and 3rd overall with VanAlsburg being the rabbit out front. Lap 4. Ward comes through the barrels in 1st, Whipple in 2nd and only a second splits them, VanAlsburg remember in 50+A class 2 minutes out front at the start was their last victim of this battle. The next laps were great racing as the two boys simply took off and rode well. Somewhere on the west side Whipple encounters an issue and drops 30 seconds. Then the next lap drops a minute this was enough cushion for Ward to win the morning "big bike" race. Whipple even with his mechanical issue held on for second, 2 minutes ahead of VanAlsburg and the rest of the field. Who knows what kind of race day it would have been if he had not had trouble as Whipple gets stronger as the day goes on. Ward was the only rider to squeak 10 laps out of this 1.5 hour time frame and the next 12 riders did 9.
Chad Piecha( 1097) got into the top 5 for the first time overall, evidently slick rutting conditions are something he excels on. Jay Hall(650) from Hall's Cycles took the 5th overall position.
Ian Murphy (194) "Murph" came back in the 65 beginners this race to defend his earlier win in the class in May. Jackson Damron (193) and Michael Truver (198) were keeping him honest early in the race. Connor Pilon having issues on the start and came from the last place start to 4th. Pilon raced hard and made some good passes to get to the front of the pack but ran out of time in the shorten muddy race. Jayce Olsen (147) started out strong and ran into some trouble in the later laps.
Atv racing is seeing some what of a resurgence at Fox Valley this year with a 3-4 year high 24 riders showing up to attack the muddy, slick and now rutted course. Chris Breitwieser (21) (pronnounced Breit-wieser like Budwiser) gets a solid start, passes for the lead and promptly finds the same mud hole which is now augured so deep he gets buried.. What seems like an eternity, pulls, pushes, yells some choice words and gets his rig out of the hole. Dropping from 1st overall to 10th! Bryan Wittersheim (300), Brent Coyle(122), Ed Gimenez(103) and Kevin Johnson (312) assume the top spots on lap 2 . New this event was the re-arrangement of the finish line logs, this made it much better for quads to maneuver them and more then half the group did them repeatedly. This along with the many mud spots kept racing interesting and close. Breitwieser didn't give up, once out of the hole he put his head down and charged the rest of the race. Ending up passing Johnson on the second to last lap. Johson held on to second in his class after running second most of the race overall. Last couple of laps the younger guns got by.
50cc riders both Senior and Junior classes had a well burned in course to deal with, some minor changes had to be made so they could get around the rutty slick muddy conditions left by the rain and the 65cc Beginners. Lane Davis (12) pulled a solid 8 lap win, with Mason Wise and GP Cyclesports Kamdyn Ming(27) rounding out the podium in the older class. Juniors on the course at the same time had Regan Doerr, Trey Lee, and Ethan Fox top three in their class.
Fox Valley Off Road wants' to thank all the riders who decided they wanted to race and ride not worrying about the conditions that much. Rain and mud looks like the norm in 2015! Now all the way through June and it's 15 weekends with rain either Friday, Saturday or Sunday. What this means is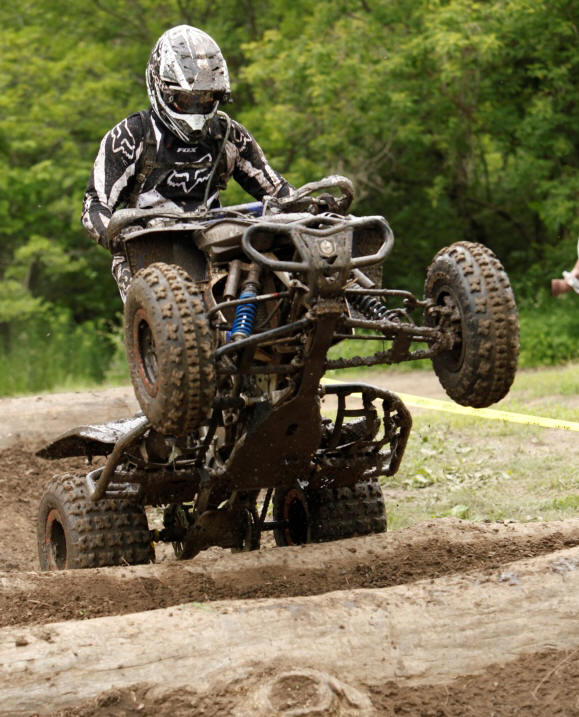 if you like to ride or race, it likely will be wet. Next up. July 11th Ex returns to Megacross, both woods and sx/mx riders come to do battle on the night track. This year a twist, with an intermission dash for cash. See details on the website.
July 19th the District 16 & District 17 Hare Scrambles race which is always fun to see the WI. guys come down and compete. Busy summer of events and racing going to be fun wet or dry!!!!
This photo below is considered a great shot of "friends and family" the sport brings out the best in riders and families. It's always a good time!